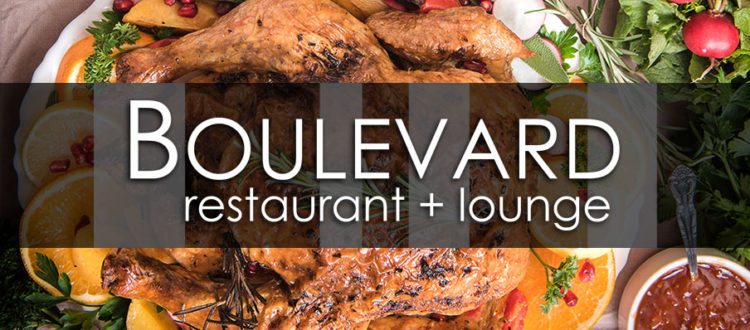 Thanksgiving with Boulevard Restaurant
Thanksgiving Roasted Turkey-To-Go Dinner
Available Until October 4th
Thanksgiving is coming – Satisfy your guests with a whole roasted turkey dinner to go from Boulevard Restaurant & Lounge!
Satisfy your guests with a whole turkey dinner this Thanksgiving season, prepared by the award-winning Chef Emmanuel David and his team. Boulevard's Turkey-to-Go dinners come served with apple stuffing, cranberry sauce, baked yams, seasonal vegetables, and pan gravy to top it off.
Our turkeys range from 8 to 30 pounds each, feeding up to 40 guests. Get your choice of garlic mashed or oven roasted potatoes, and choose from our many enticing add-ons:
Maple Glazed Ham – $5.95
Argentinean Jumbo Prawns – $8.95
Sticky Toffee Pudding – $6.95
Christmas Cookies – $16.00
AB Beef Striploin – $8.95
Eggnog Cheesecake – $8.50
Pumpkin Pie – $5.95
12 Mini Cupcakes – $24.00
We also offer turkey dinner meals per person for smaller, more intimate occasions. Each meal comes with cranberry apple stuffing, roasted candied yams, and seasonal vegetables.
No meal is complete without dessert. Sweeten your taste buds with the following options:
Eggnog Cheesecake
Sticky Toffee Pudding –
Pumpkin Pie
Turkey Sizes:
8 – 10 pounds – serves 8 to 10 people – $250
15 – 20 pounds – serves 15 to 20 people – $500
25 – 30 Pounds – serves 25 to 35 people – $750
Orders available only until October 4th and based on availability.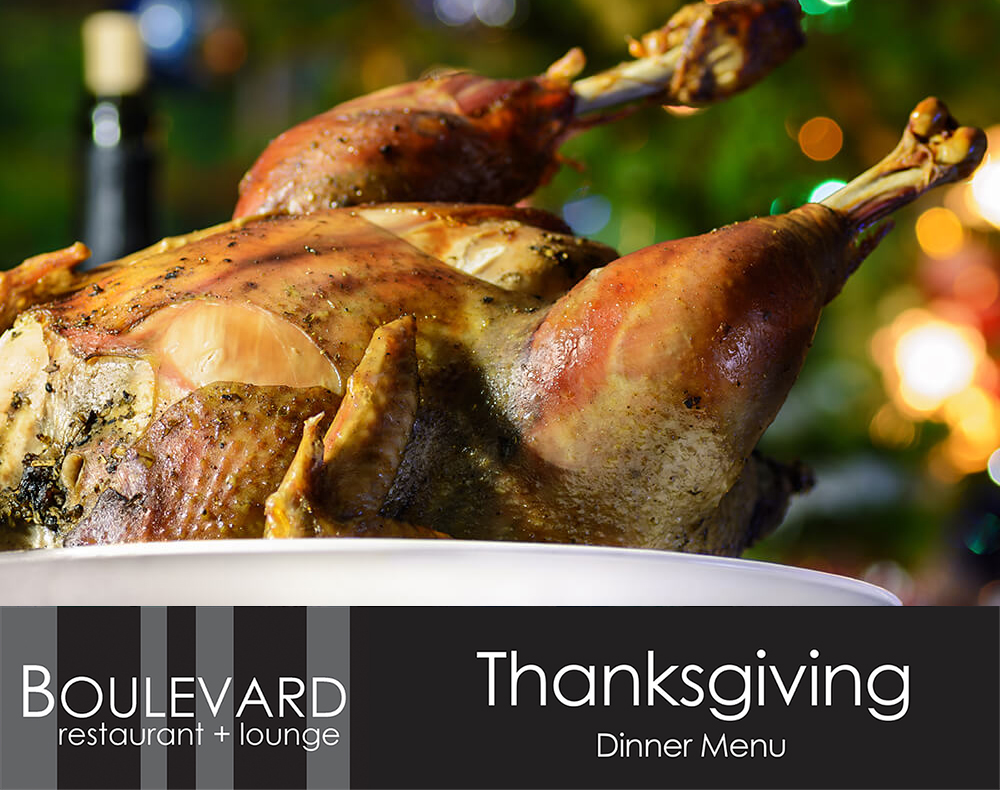 Thanksgiving 5-Course Oven Roasted Turkey Dinner
October 7th & 8th
Let the award-winning Chef Emmanuel David and his culinary team take care of Thanksgiving dinner this year with a 5-course oven roasted turkey dinner at Boulevard Restaurant & Lounge.
This Thanksgiving feature will be available from October 7th to the 8th to help you enjoy family traditions with none of the cleanup! The dinner will include an appetizer, salad, dessert, and a complimentary amuse bouche. The main feature is fire roasted turkey with cranberry stuffing, garlic mashed potatoes, maple glazed yams, and potato risotto. The meal is topped with home-made cranberry mint sauce and pan gravy.
Make this the best Thanksgiving yet and join us for dinner.
Take a look at the Thanksgiving Menu.
Seating is limited. Call us at 403-314-BLVD(2583) to order
or click to book your online.